Inspired by Nature. Defined by Romance. No Club Like It.
ARCADIA'S ORIGINS.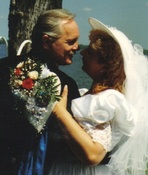 Kathy and Gerry were soul mates.
---
Arcadia's humble beginnings as a small Au natural, romantic private club getaway was created by Gerry and Kathy in 1994. The peace and energy of their cedar-grove estate was a Garden of Eden retreat meant to be shared with other lovers. ARCADIA was named not because of its Arcadia Road access rather as its name represents the ancient Greek society of ARCADIA, which was an open-minded, nudist society; hedonists in all things and defined later by Renaissance scholars as an au natural repose and scholarly forum. Thus Arcadia's name, proved a good omen to what is today, an open-minded, welcoming society.

In 1998, Gerry died. Kathy took the helm, working an outside job as managing some weekends. With her guest members' support, and there have been many, now into 20 years; Arcadia moved from a humble membership stay in its cabin and mobile home and a hot-tub to expanded grounds area. Arcadia continues to unfold; albeit: the beginnings of bi-annual work parties to continued return guests and weekend social events; she and they have been able to even expand facilities to a wonderful, seasonal playground and winter cozy getaway. The Greek Muses Sea Nymphs swimming pool was created with a visionary, Len, and membership as also the pavilion, garden outdoor shower, cottage restroom, mermaid fountain court-side and even RV Athens Court. It is obvious, Arcadia's guests members seek a freedom to be natural, to be real. And herein, has unfolded:
ARCADIA's vision: A European Au natural, nudist, romantic private-membership club.



---

---
---
This was Kathy and Gerry's personal logo:
Sail together with:
Passion, Intellect, Emotion
and
Spiritual Connections within our world.

A well-known actress, Debra Winger, recently interviewed spoke about her 20 year marriage on how to keep a relationship fresh:
[ QUOTE 2017: TIME ]
"Anybody who says they understand how to make love stay would have to be called a liar or misguided. The intention is to stay awake, stay alive, keep loving, keep lit up, keep being able to light up the other one. Those are the real tricks. That and some pixie dust."
******************
ARCADIA is a form of "PIXIE DUST" to inspire committed couples' continued "state of loving". The outside world intrudes on that loving space together: schedules with children; work demands; as even routine love-making which is alienating the partners.
Couples require some
" you and I together for a weekend to make crazy love" ! Where do you live out some fantasies to fire up the "libido"?
Our human nature thrives on change.
Our Couples Fantasy events are meant to "keep loving lit up".

*******
Then to address the Nudist philosophy which we primarily embrace:

Enjoy body freedom, awareness
and acceptance of self and others in true relaxation.


Come experience Arcadia's cedar-canopied nature and beauty, Hedonistically feel the sun's rays and warmth on one's body, languish in the quiet, read a book for hours, sleep, watch movies, enjoy alone-time sexually with your partner, and pamper one another with a healing massage. Enjoy the variety of people while enjoying campfires, social hot tub gatherings, lively laughter, kinship, song and dancing.


---
---
Retreat to woman-owned "ARCADIA"
planned from a woman's point of view.
"We are sensitive, human organisms." Please respect all who enter our doors.
A friendly welcome is not only the order of the day, it is our culture.
Thank you. KATHY
ARCADIA
ROMANTIC NUDIST CLUB GETAWAY
141 S.E. James Road
Shelton, WA 98584
360-426-7116
E-mail:
kathy@arcadianaturally.com
LINKS TO OTHER SITES OF INTEREST:
Arcadia will post information on other sites of interest. We do not guarantee nor take any liability to their reference.
Links are an important aspect of our connected-ness on the Internet to information that is important to you.